Does that title work? I might be stretching it there, but whatever. You get it, right? Spring inspiration... spring-speration. Right?
Let's go with that!
The weather is forecasting snow today and tomorrow here in the northeast and I'm
not very happy about it.
To counteract bratty winter and its refusal to
just leave already, nobody even likes you anymore
, I have decided to ignore the snow and focus on some spring inspiration in my immediate surroundings. Why? Because sometimes you don't even have to leave the house or buy a darn thing to feel the pulse of nice weather and green grass. Spring's a breath away... I can feel it. So this snow is just a minor speed bump (and as of right now, it hasn't fallen yet or accumulated or anything, so... here's hoping).
Here's my spring-speration today: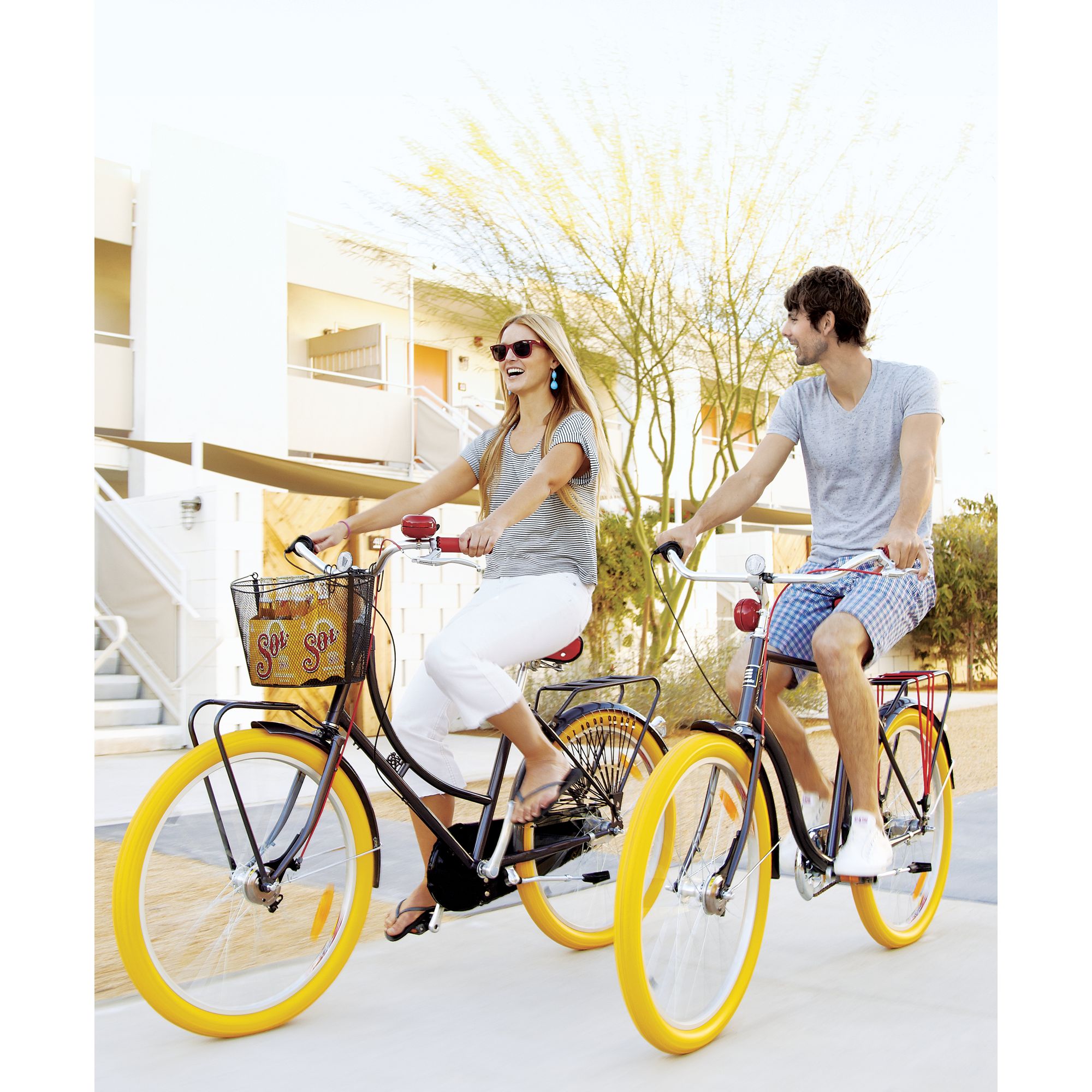 Holy bike baskets, I want this CB2
bike
bad.
But alas, I already have a bike and it's only 2 years old and there's nothing wrong with it, and this one costs money while mine is, well... already paid for. But regardless, those bright yellow wheels and that ADORABLE basket make my heart flutter and remind me of all things spring: bike rides, our engagement, farmer's markets, sunshine. You know, good non-winter stuff.
Ulta had a sale last week so I stocked up on spring-friendly nail polish. The peachy coral color on the left is currently on my fingertips and it's lovely. The pale pink and red are so vastly different, but they both scream spring to me. The mint green? Well, that's for fun. And to ward off winter. The bracelet was one of a set of I bought last July to wear for my bachelorette party. Paired with my coral dress, they were perfect and still remind me of warmer days.
My brother and
sister-in-law
got me this card & adorable notebook for my birthday. I have to get cracking on that novel, now! This was one of the most thoughtful gifts ever.
The card is so me. It has an e.e. cummings quote that I adore: "The world is mud-luscious and puddle wonderful." Yes, yes it is. I love my bro & sissy so much for this awesome gift!
My friend Jacey
sent me a book of short stories all the way from Georgia and included a little note. I loved the design at the top of the note because it reminded me of a wild garden of flowers.
This Old Navy scarf from last spring is the best thing ever. Isn't it?? The colors are very me and I adore the pattern along the edges. Paired with a crisp white top or a carefree sun dress would be total spring perfection, no?
What's your spring inspiration?